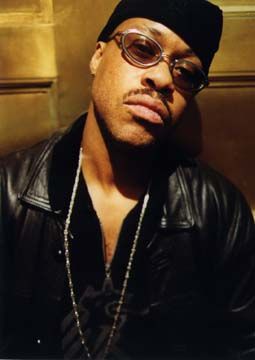 Today a fellow hip-hop head and teacher found me in the library and told me that Guru died. He had been in a coma for a while, which I hadn't heard about.
This really makes me sad. Guru (who described his name as representing "Gifted Unlimited Rhymes Universal") was one of those rare talents in the world of hip-hop: An intelligent, loving, and powerfully enlightened soul who created positive, funky-beyond-words music.
I was never a huge fan of Gang Starr, his first group, but since the first time I heard his first Jazzmatazz project, I knew it was something very special. I've had my eyes opened to a number of magnificent jazz greats through those albums, and his lyrics have always combined a syrup-smooth flow with masterful music production. And he said things worth saying — a sadly rare phenomenon these days.
Guru himself was always about maximizing one's time on the planet, drinking fully from the font of each day, and never wallowing in despair. So it's only fitting that we listen, then, to his track "Lifesaver" from the second Jazzmatazz album.
Is this the end? Or a new beginning? Indeed.